RED (Rights Equality and Diversity) European Network
The RED-network consisted of 17 scientific institutes and civil society organisations. The Institute for Rights Equality and Diversity (i-RED) in Athens was the coordinator of the network.
As part of the RED-network, a web-portal has been created which posts both background information and the latest news relating to discrimination and racism from 20 EU member countries as well as the EU as a whole.
With the help of this web-portal, the RED-network wanted to provide current and reliable data, information and analyses regarding discrimination and racism occurring at EU and national levels to the general public, politicians and journalists. The portal was also meant to function as an early warning system to combat discrimination and racism.
The RED web-portal: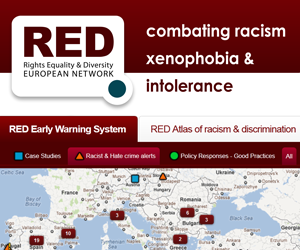 Funding: European Union, specific programme "Fundamental Rights and Union Citizenship"
Duration: January 2011 - January 2013
Researcher: Claudia Lechner