European Summer School on Migration, Diversity and Identities 2003
The European Summer School on Migration, Diversity and Identities 2003 (DECER 2) took place in Vierzehnheiligen at Staffelstein, ca. 30km north of Bamberg from September 4 to 13. The Summer School was supported by the European Commission on Research with resources from the High Level Conference Programme. It has been the second Summer School of the programme DECER - Developing Expertise in Comparative European Research. The first EU Summer School took place in September 2002 at the University of Bradford, Great Britain. The EU Summer School had been prepared by a consortium of eleven european universities, coordinated by Prof. Charles Husband, Bradford. It has been organized and hosted by the efms, which represents the University of Bamberg in the consortium.
29 PhD students and 18 lecturers from universities of nine european countries participated in the programme.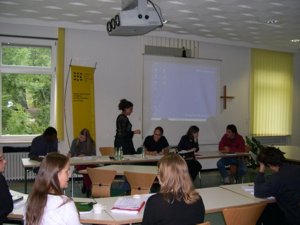 Working group developing a EU research project application
Participants of the European Summer School had been doctoral students who recently begun a PhD research project in the field of migration and integration of migrants. They participated in a curriculum which presented and discussed important aspects of international comparative research on migration and integration. Each of the 29 PhD students presented within three break-out groups her/his work-in-progress report on the PhD research project and discussed the research plans among the international experts and their Summer School colleagues.
During the ten days of the Summer School, four lectures per day by international experts took place. On two days, field research trips to Nürnberg to the Federal Office for the Recognition of Foreign Refugees (BAFl, the designated Federal Office on Migration and Refugees), and to the Nazi party rally area with its documentation centre (history of forced labour during WW II and of the post WW II displaced people) had been organized, complemented by presentations of local experts.
The participants of the Summer School came from Spain, Italy, Slovenia, France, Austria, Germany, Belgium, the Netherlands, Sweden, Finland, Poland and Estonia. They belonged to the disciplines sociology, political sciences, law, philosophy, social policy, geography, anthropology, ethnology, education, social psychology, religion sciences and Chinese studies.
The next European Summer School on Migration, Diversity and Identities will take place in late Summer 2004 in Helsinki, Finland, organized by the Swedish University of Helsinki.