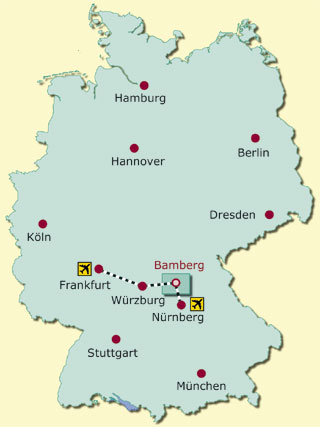 How To Get to Bamberg
By plane and by train


Bamberg is situated about 60 kilometres (37 miles) north of

Nuremberg in northern Bavaria (Franconia).

Getting there by plane:
The nearest airport is

Nuremberg International Airport. From there you can get to Nuremberg Central Station (Hauptbahnhof) in about 20 minutes on underground/subway line 2. You can get to Bamberg by train from Nuremberg Station in 30 to 50 minutes.

Another airport that is handy for Bamberg is Frankfurt Airport. An express train (ICE) leaves there for Würzburg roughly every hour; in Würzburg you need to change train for Bamberg (approx. 1 hour travelling time)



Getting there by

train: The Inter City Express from Munich to Berlin stops in Bamberg every two hours. There is also an hourly connection from Nuremberg Central Station to Bamberg (travelling time about 50 minutes). The institute is a ten-minute

walk from the station.