Facilities and Equipment of the efms

Since 1993 the efms has been working in its premises in

Katharinenstr. 1, approx. 1 km (2/3 mile) from the university campus in Feldkirchenstrasse. The institute has five offices with a total of 14 workplaces.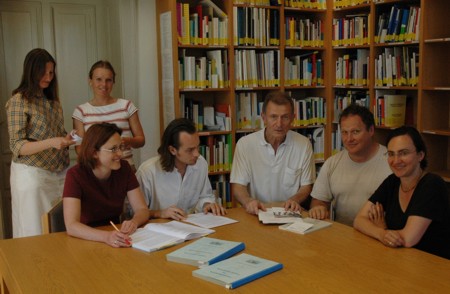 Library

The institute houses a specialist library on migration, integration of migrants and migration policies. The library contains publications from the fields of sociology, political science, demography, law, geography and ethnology, as well as handbooks, statistics and documentary material (visual, audio and video). The contents of the library are recorded in a database based on the SOLIS structure.


Documentation

In addition to the library the efms has a documentation of grey literature, manuscripts, statistics, maps, legal texts, articles from newspapers and journals, and information material. These documents are recorded using the same index as the library.


EDP

The institute's EDP network is connected via a glass fibre line to the computer center of the University of Bamberg, and thus to the Bavarian glass fibre backbone.

The four databases Literature, Documentation, Migration Report and Migration Guide are administered via the relational database system LARS II for Windows.

Since the summer of 2002 the efms has been using project management software with time recording for the calculation of project costs, administration and project management (

Start+).